One of the types of fruit that I have come to love since living on this beautiful Island of Oahu is Pineapple! Today I decided I was going to make some Pineapple Upside Down Mini Cakes! Yummy! Recipe and photos soon to follow! It's a EASY and QUICK treat and great for summer desserts for those of you on the main land!
As Promised:
Recipe=
You will need:
2/3 cup of packed brown sugar
1/3 cup of butter, melted ( I used 1 and a half sticks of butter once it melts it's not very much)
2 (20 ounce) cans sliced pineapple (I used 1 can of crushed pineapple)
1 (18.25 ounce) package yellow cake mix (follow directions on package to make cake batter with the exception of using your drained pineapple juice from the can of pineapples in place of most of the water it is likely you will need 1/3 cup of vegetable oil and 3 eggs to make the cake mix)
Maraschino cherries halved (12 cherries) if you would like to top the cakes with them ( I didn't but only because I didn't have them available this time)
Now this is the fun and EASY way to make it:
Preheat oven 350 degrees
Grab a muffin pan or two that will fit 12 muffins in it...I used one muffin pan and three mini loaf pans but you can use two large muffin pans as well, whatever you have available. Once you have your bakeware you need to line it with pam or whatever you use to grease your pans. Next you put one level teaspoon or so of brown sugar in each muffin slot. Next pour butter to cover the brown sugar in each cup. Then you will Put 1 to 1 1/2 teaspoons of crushed pineapple into each slot. Mix cake mix according to box instructions except use your pineapple juice for as much of the water it calls for you can what ever amount of juice you lack use water to fill the difference. Put one tablespoon cake batter into each muffin slot (some may need a bit more use your own judgement on how much based on how they look...you want it to be about the same in each if you can so they all are about the same size (especially if you are making them for a event etc.) Now you will bake them for 19-23 at 350 degrees until brown and toothpick comes out clean or cake tester stick. Transfer bakes cakes as soon as cooked. Place a tinfoiled covered cookie sheet over muffin pan and flip cakes onto sheet. Your done! See it was EASY! Now once you are doing enjoying your dessert put those leftovers in the frigde loosly covered! This is to insure the cake doesn't get hard and otherwise distasteful too soon! Hope you enjoyed it as much as we did!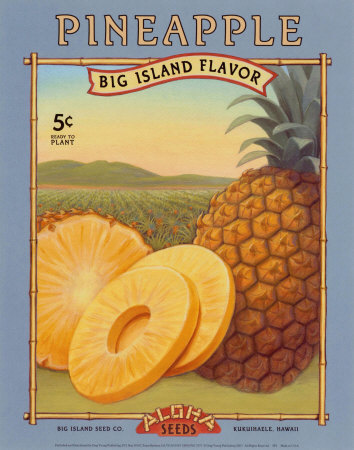 Also I wanted to add that if you are going to be visiting Oahu or live on Oahu
The Dole Pineapple Farm
is a great place to visit! They have a maze,
gardens
,
gift shop
,
train ride tour
(AKA Pineapple Express) and a wonderful thing called a Dole whip which you must try! Yummy!